These Air Fryer Carrots are crispy outside and soft inside. Herbed, garlicky, and simply yummy – make for a perfect side dish. Gluten-free, dairy-free, Whole30, and Paleo.
Not only are these air fryer carrots insanely delicious, but they're also one of the simplest side dishes you can make. After all, you just need carrots, some seasoning, and your air fryer.
If you feel the craving for French fries hit, don't give in. These taste even better than a bag of fries (that's right, I said it). And they'll barely cost you anything to make.
Whip some up for an after-school snack, a midday pick-me-up, or even a delicious side dish at dinner. The sky's the limit with something this a-peel-ing.
Ingredients and Substitutes
Carrots – Use either standard orange carrots, baby carrots, or even one of the fancy purple varieties.
Extra virgin olive oil – avocado oil works too.
Dried parsley – You can use dried oregano instead
Onion powder – Real onions would release too much moisture, so we'll stick with the powdered variety for ease and flavor.
Garlic powder – Minced garlic works too.
Salt and black pepper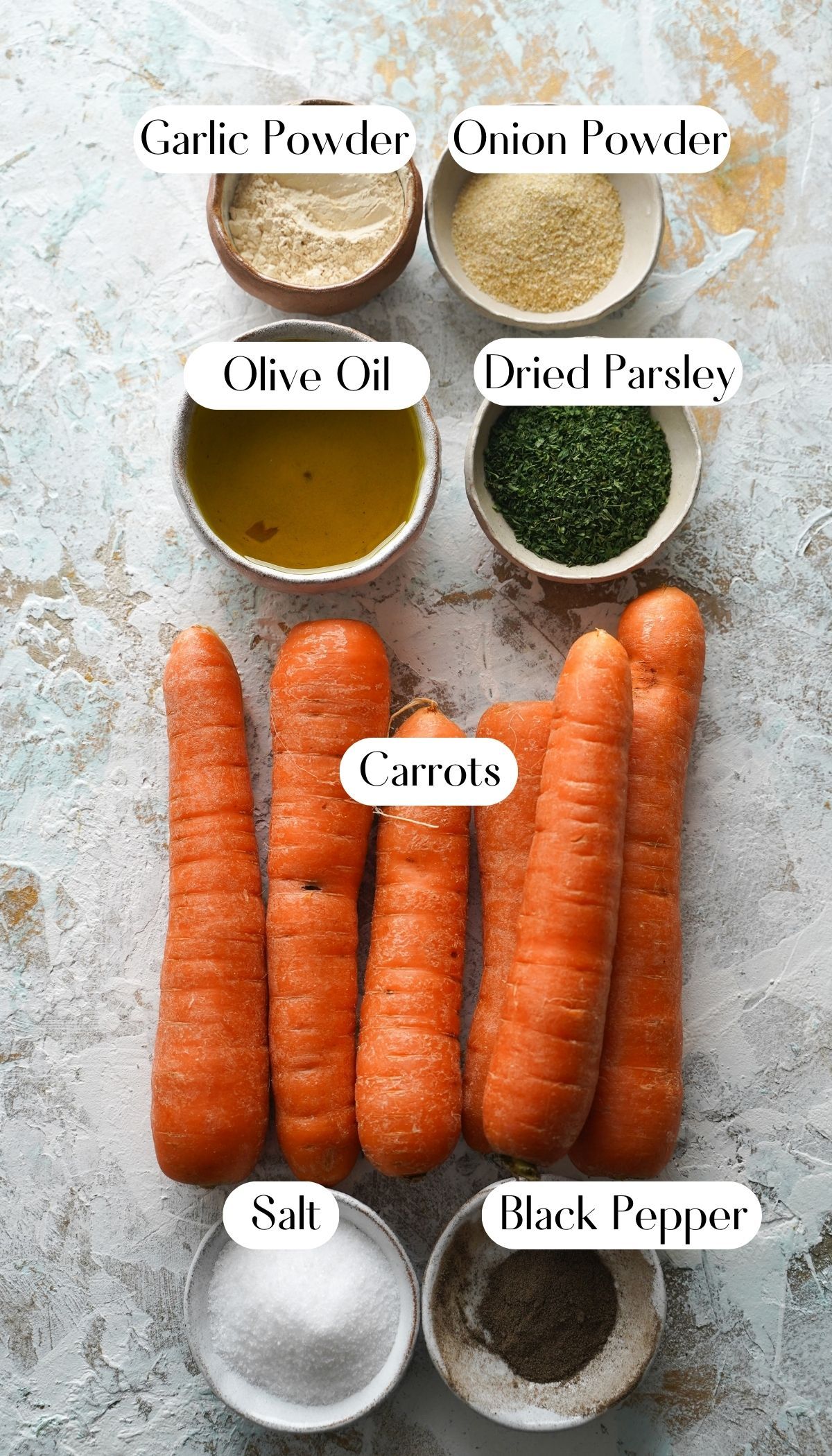 How to Make Air Fryer Carrots
Step 1. Cut your carrots 6 carrots into even sticks. First cut each in a half, then lengthwise, and then each quarter into 3 sticks.
Step 2. In a bowl, mix olive oil with dried parsley garlic, and onion powder. Add salt and pepper to taste.
Step 3. Toss your carrots through your seasoned oil mixture, making sure to coat them evenly.
Step 4. Spray or coat your air fryer basket with oil. About two pumps will do. Now, place your carrots in the basket, spreading them out evenly.
Step 5. Air frye for 7 minutes at 400F (200C), then give them a good shake. You can gently move them around with a spatula as well. From there, air fry for another 8 minutes.
Plate up with a little sprinkle of extra salt to taste, and you're ready to dig in!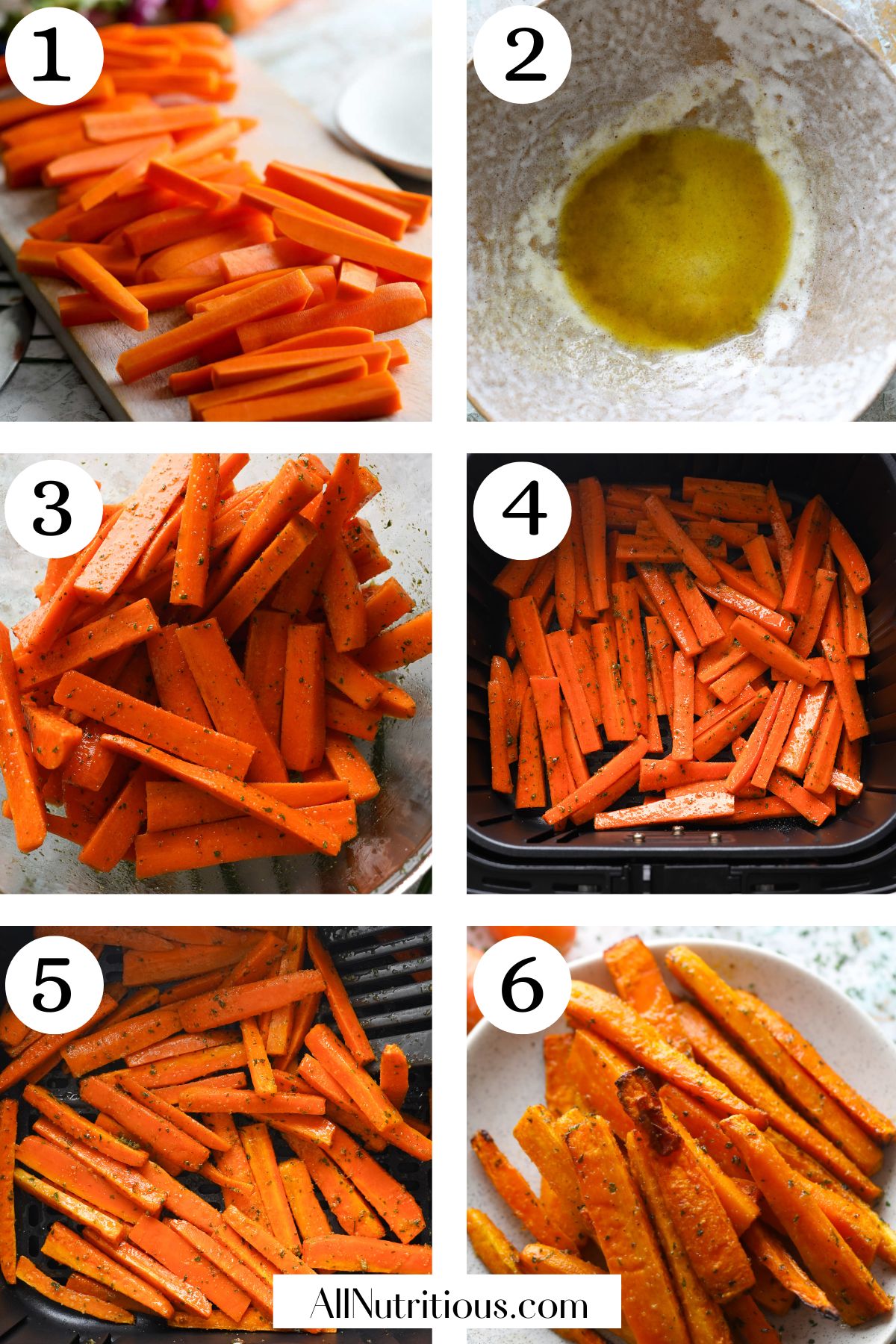 How to Reheat Carrots
The best way to reheat any leftover carrots is to give them another blast in the air fryer or the oven.
This helps to keep them crispy and firm, whereas a microwave would, unfortunately, make them soggy.
It also comes down to how you store your leftovers for reheating! It's important to store them in an airtight container in your refrigerator. You have about four days to go back to them.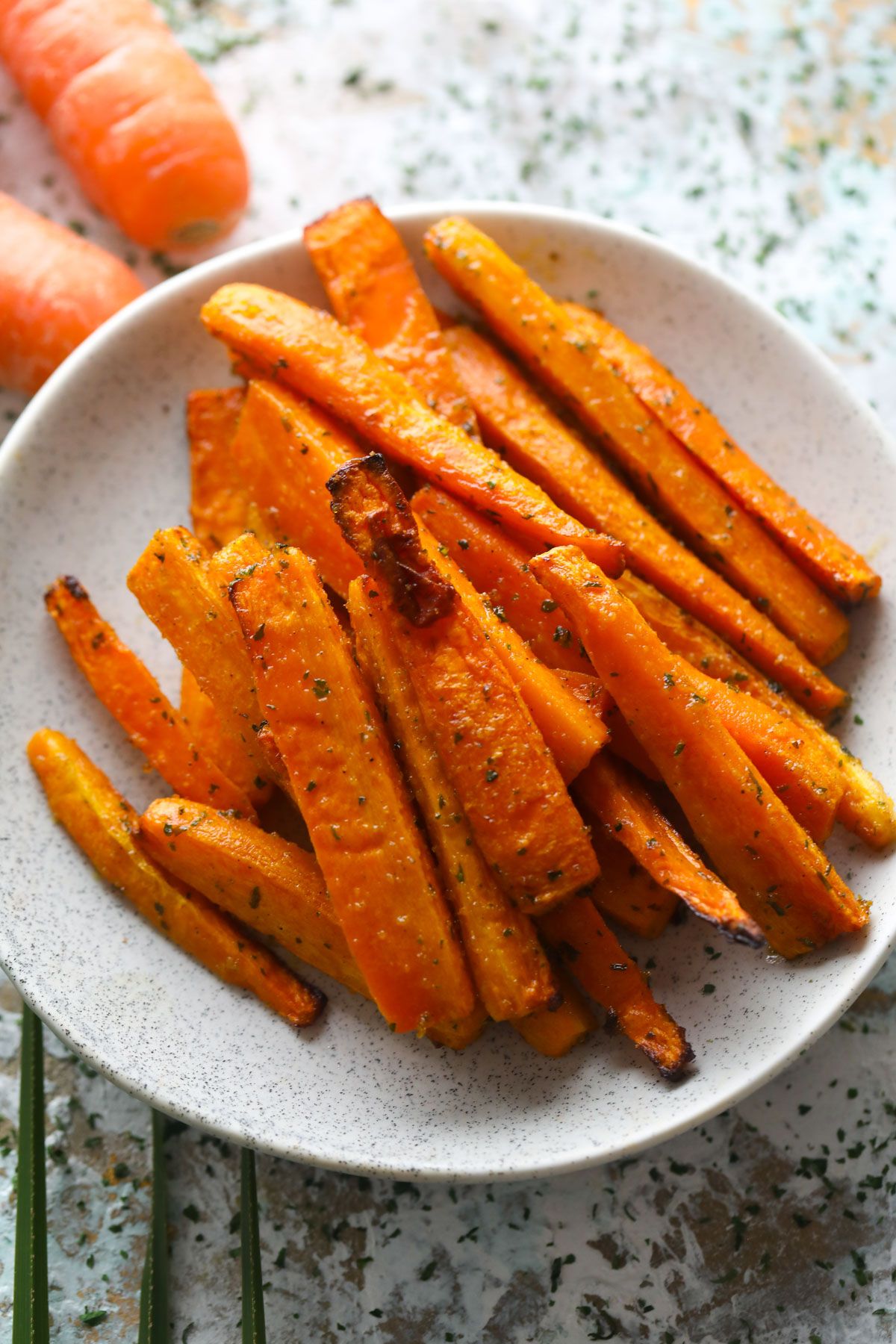 What to Serve Air Fryer Carrots With?
Air fryer carrots are a super versatile side dish or snack you can serve with almost anything. I always recommend providing a creamy dipping sauce like aioli for the full-blown fry experience.
If you're preparing a Sunday roast, this is a super easy way to put a unique spin on your roasted vegetables without taking away any more time.
Can You Freeze Air Fryer Carrots?
Absolutely! You can freeze cooked carrots of any kind as long as you store them properly.
Grab a couple of freezer bags and toss them in, allowing some room for them to expand.
An airtight container will also work if you don't have any freezer bags at home. Properly stored, most cooked carrots will last you up to three months in the freezer.
More Recipes Like This
Side Dishes for Grilled Chicken
Watch How to Make It
Air Fryer Carrots
Craving a tasty side dish? Try these delicious air fryer carrots for perfectly crispy and flavorful. Dairy-free, gluten-free, Whole30, and Paleo. This is one of the easy air fryer recipes you can make and enjoy for your perfect weekend dinner.
Ingredients
6 medium carrots
2 tbsp extra virgin olive oil
½ tsp dried parsley
1 tsp onion powder
1 tsp garlic powder
Salt and black pepper
Instructions
Peel carrots, cut them in half, then in half lengthwise, and then into 3 slices each lengthwise. Keep them around 2 inches long, so you've got your carrot sticks ready.
In a bowl, mix together olive oil, dried parsley, onion powder, garlic powder, salt, and black pepper.
Place carrots in a bowl and coat them with the oil.
Spray your air fryer basket with olive oil. Two pumps will do. Place all the carrots in the basket, spreading them out evenly.
Air fryer for 7 minutes at 400F (200C), then give them a good shake to flip them and air fry for another 8 minutes.
Serve them with your favorite meal!
Nutrition Information:
Yield:

2
Serving Size:

1
Amount Per Serving:
Calories:

207
Total Fat:

14g
Saturated Fat:

2g
Trans Fat:

0g
Unsaturated Fat:

11.6g
Cholesterol:

0mg
Sodium:

420mg
Carbohydrates:

20g
Net Carbohydrates:

14.2g
Fiber:

5.8g
Sugar:

8.8g
Protein:

2.2g
Nutritional values were obtained with automatic software using the amounts of products used. To get the most accurate representation of the nutritional values, you should calculate them with the actual ingredients used in your recipe. You are solely responsible for the nutritional information obtained to be accurate.