Got your dinner planned and looking for the perfect side dish for pork chops? These sides are easy to make, taste absolutely delicious. Anything from potatoes, to pasta to salad sides – there is something for everyone.
Whether it's a lazy weekend brunch, a busy weeknight dinner, or a lavish spread for a holiday celebration. Pork chops have become a staple dish in many homes.
That's because of their taste and simplicity in preparation. However, the decision regarding what goes well with a plate of pork chops continues to be a head-scratcher.
But the good news is there are endless pork chop recipes. Whether you want a sweet, spicy, light, or refreshing dish.
Here's a list of some quirky, tasty, and unique side dish options. All with minimal preparation or fast cooking time to make your simple meal an extravagant affair.
From creamy pasta and flavorful rice dishes to sauteed veggies and roasted potatoes. These side dish options will appeal to even the pickiest eaters.
What to Make with Pork Chops?
Pork chops have diverse flavors and rich textures. Thus, are easy to pair with many dishes and ingredients.
If you're looking to transform your simple pork chops recipe into a hearty, full-course meal. Then, you can consider adding rice, pasta, or potatoes to them.
Looking for something light and healthy to for low carb diet? Then some vegetables such as green beans, asparagus, and broccoli would perfectly fit the bill.
A big celebration involving huge crowds? It's best to whip up some salad, cornbread, and some sauteed vegetables.
So, you have enough varieties to serve.
What Vegetables Go with Pork Chops?
Wondering how to make your pork chop dinner more nutritious with some vegetables? Then you'll be happy to know that the options are endless given the vibrant flavors and textures of pork chops.
Almost all vegetables such as green beans, carrots, onions, squash, asparagus, zucchini, potatoes, and broccoli go well with pork chops.
Potato Side Dishes for Pork Chops
Whether baked, roasted, or fried, potato side dishes go well with almost all meals. Potatoes make for perfect sides when it comes to pork!
That's regardless of the occasion and season.
Instant pots are the fastest, easiest, and tastiest recipes. And this instant pot-baked potatoes recipe is no different.
You get perfect potatoes that are crispy golden on the outside. While fluffy and fork-tender on the inside.
Just load the pot with the simple ingredients and leave it for about 30 minutes. Then, get ready to be blown by this delicious dish.
Moreover, since this is an Instant Pot recipe, you'll also get to retain all the good stuff stored in potatoes. All that while enjoying their true flavor.
You can have the potatoes according to your preference. Either sliced and smeared with butter and sour cream or stuffed with cheese and chives.
Grilled, roasted, or mashed potatoes are excellent side dishes. However, this minted new potato recipe can be the perfect addition to pork chops.
It is best to look for the smallest potatoes or buy a bag of baby potatoes for this recipe. Boil the potatoes on a stove or cooktop until they are fork-tender.
Afterward, toss them with fresh mint and smooth butter. For an extra flavor boost, you can add a generous amount of salt and pepper on top.
Whip out a meaty meal with these simple spicy roasted sweet potatoes. This is a sweet side dish that you can then pair with your delicious pork chops.
Packed with smoky South Western flavors, fluffy on the inside, and crispy on the outside. This sweet potatoes recipe is an easy side dish loaded with flavor.
They can make any dinner feel special. If you like the texture and taste of sweet potato skins, do not bother to peel them.
However, if you prefer the smooth feel of peeled potatoes, go for that option. Either way works well.
You can store the roasted potatoes in an air-tight container for up to four days. This is a great side to serve with meatloaf.
Simple, delicious, and easy to prepare. This is a perfect side dish to add to your pork chops to give it a unique holiday feel. Loaded with green beans and baby potatoes.
Also, covered in a dressing made of orange juice, garlic, and pure maple syrup. This recipe is full of creamy, nutty flavor. On top of it, has hints of citrus and red pepper tangs.
You can prepare this recipe ahead of time. However, they taste best using fresh potatoes and green beans.
They get soft after sitting in the refrigerator.
If you're a fan of roasted, crispy potatoes, these tiny golden gems should be on top of your must-eat dishes. One of the best sides for pork chops!
These truffled Hasselback potatoes are so delicious and full of flavor that you may just feel like making a complete meal out of it.
Use baby potatoes for this recipe and slice them into thin wedges but leave them joined at the bottom. Toss them in olive oil and cover them in truffle butter and truffle salt.
Roast the baby potatoes in an oven until the layers fan out into crispy rounds.
Healthy Side Dishes for Pork Chops
These nutritious side dishes are full of herbs and fresh greens. They will not only add contrasting flavors to your pork chops plate.
But, they are also light on the stomach and easy to whip up in minutes.
Colorful, vibrant, and yummy. This spinach tomato salad creates a refreshing hearty meal that is easy to prepare.
It's low in calories and packed with nutrients. So, no wonder it's one of my favorite side dishes.
The dressing made of red wine vinegar, garlic, olive oil, honey, and mustard has a tangy and sweet flavor.
The salad features feta cheese, grape tomatoes, cucumbers, red onions, pumpkin seeds, and spinach leaves. With a crispy and crunchy texture and a creamy flavor.
Although this nutritious dish can be a complete meal in itself, it also goes well as a perfect side dish for pork chops.
One of the quickest and easiest recipes ever. It requires very minimal preparation time and almost next to no cooking.
This carrot and beet salad can be a game-changer for your busy schedule. Naturally sweet, simple, vegan, and delish.
This is one of the best options for a plate of delicious pork chops. To boost the flavor of the salad dressing, sprinkle salt and pepper and garnish with some fresh-cut parsley.
The combination of crunchy green sticks of roasted asparagus with pork chops is unmatchable. The play of garlic with oven-roasted asparagus lightly seasoned with sea salt, lemon juice, and freshly cracked black pepper.
All of it creates a nutty and tangy flavor that's great for your taste buds.
Make sure your roasted asparagus sticks are easy to pierce with a fork but not mushy. For the best flavor, it's best to remove the asparagus from the oven when they turn light brown.
A dish made with simple ingredients, and a short preparation time. This balsamic tomato salad is a great stand-alone lunch or dinner.
It also pairs great with a plate of spicy pork chops. Fresh tomatoes smothered in delicious sweet basil and zesty red onions make up this simple dish. On top of it, it only takes about 10 minutes of preparation.
This salad tastes best with heirloom tomatoes that are ripe yet firm. For an extra gooey flavor, garnish it with shaved mozzarella or parmesan cheese.
This kale and apple slaw recipe is delicious and easy to prepare. It features excellent texture and fantastic flavors.
Which makes it a perfect side dish for a plate of pork chops. This salad is a mix of apple, onion, and kale mixed with a creamy, light dressing of mustard and lemon juice.
This is an ideal dish for large servings. Mostly because you can prepare it in advance and store it, unlike other salads.
A great side dish for pork chops and holiday dinners. It features aromatic spices, fresh green beans, lemon squeezes, and parmesan cheese.
You can prepare this on a cooktop, with the whole process taking just about 15 minutes. To preserve the beans' crunchy texture, do not overcook them.
You can add more parmesan cheese according to your preference to make it cheesier. You may refrigerate the beans in an airtight container for up to four days.
Looking for simple recipes? This side dish is just for you.
Vegetarian, and nutritious. This flavorful and delicious dish only needs three ingredients to come together!
The goodness of crunchy broccoli beautifully blends with the cheese and garlic toppings. And you can even have this on its own as a complete meal.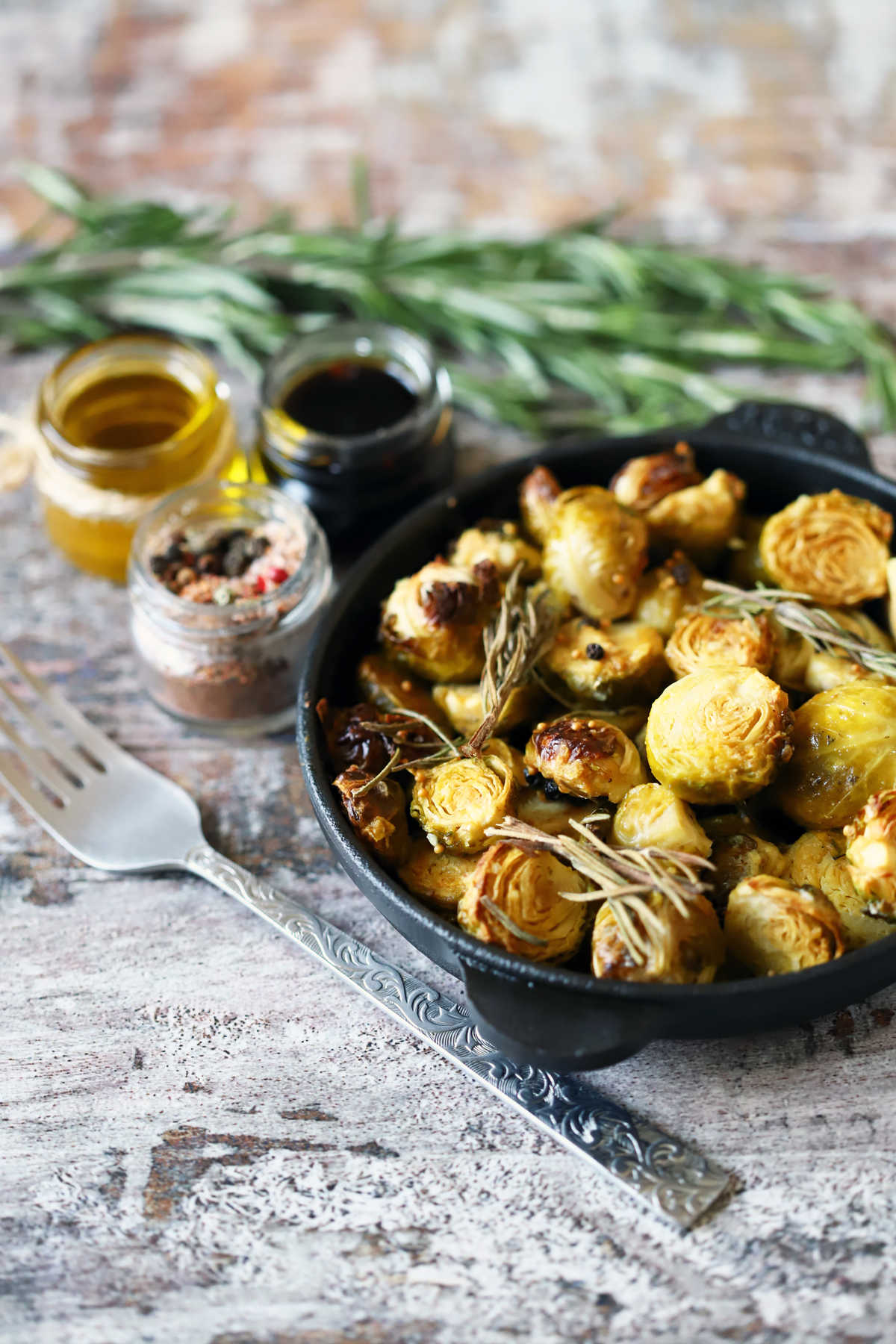 Sweet, nutritious, and flavorful. A great option for boneless pork chops.
This brussels sprouts with bacon and dates recipe needs just five ingredients to come together.
This side dish makes for a flavor you need to experience! An easy side dish for pork.
This dish also fits the bill if you crave a quick lunch. Why? Because it's a little quirky and quick to prepare.
If you're looking for nutritious side dishes that are tasty, healthy, and quick to prepare, you're in the right place. Sauteed vegetables are the most classic options.
Perfectly customizable and easy to prepare. This simple recipe is made of zucchini, carrots, broccoli, red bell peppers, and onions.
All of it can transform a simple pork dish into a great low carb meal. You can also use cauliflower instead of broccoli.
Just add minced garlic or mushrooms for some extra flavor.
Whether you're searching for a healthy side dish or want to impress your dinner guests. This asparagus ribbon spring salad can be an ideal pick.
This colorful and refreshing recipe is a mix of sugar snap peas, watermelon radish, and fresh asparagus mixed with honey, lemon, and mustard.
Use asparagus that are bright green or have violet-tinged spears. Make sure they have stems that are firm to touch and not limp.
Grilled asparagus, sharp white cheddar shavings, or sweet cherry tomatoes can be great additions to this salad. They taste just amazing.
Looking for a vegan dish? That is rich in fiber and low in calories? This quinoa and chickpea salad can be a perfect option.
Refreshing, filling, and protein-dense. This is a complete meal that has a bit of everything going on in it. From a variety of ingredients to an assortment of textures and flavors.
Chickpeas are first drenched in spices such as cinnamon, cumin, and paprika. Then, smothered in a lemon dressing of honey, white wine vinegar, lemon, and mustard.
And this is just the beginning! Later on, this is then combined with cut veggies and quinoa to finalize the meal.
The tangy tart sweetness of apple beautifully combines with the spicy-sweet anise flavor. Which makes this Italian salad a great addition to many other dishes.
Perfectly crunchy and a textural sensation, this savory salad can be a match made in heaven with a plate of spicy pork chops.
To amp up the flavor, use a blend of lemon, extra virgin olive oil, and white wine vinegar. Separately soak apples and red onions in lemon juice to prevent the apples from turning brown and oxidizing.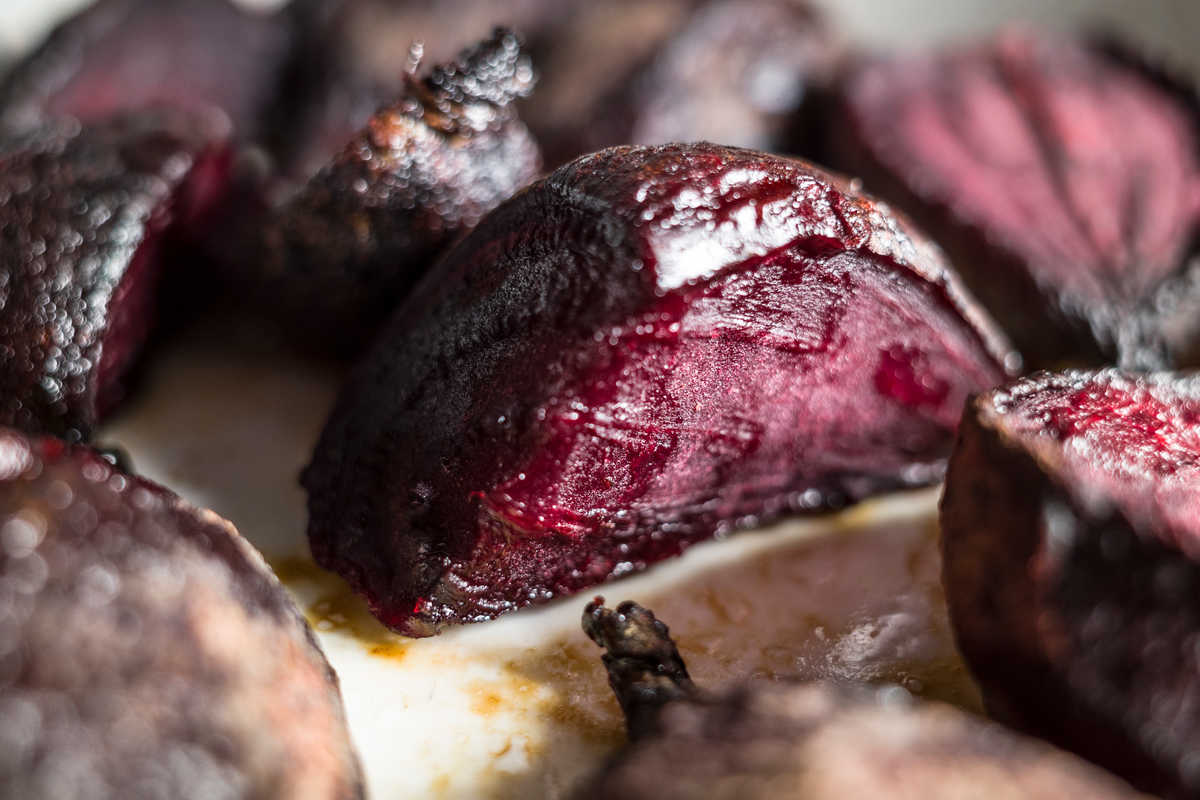 Plump, tart dried cherries, and creamy goat cheese piled with sweet golden beets. Which are then drenched in an enticing browned butter tarragon vinaigrette. These make up this unique dish that pairs amazingly well with pork chops.
Although the beets can take some time to roast, the rest of the meal comes together quite quickly. Besides being an excellent side dish, this can also serve as a warm lunch salad.
You can pair it with a slice of crusty bread on the side.
If you're looking for a healthier substitute for potato fries, this air fryer parsnip fries can come to the rescue! Full of delicious sweet, nutty flavor, soft inside, and crispy outside, these air fryer parsnip fries are a fantastic.
On top of it, a healthy option as a side dish for any pork meal. Fried parsnip tossed in maple syrup, paprika, and garlic powder make up this smokey and aromatic recipe.
It is best served with some tangy red pepper mayonnaise.
Roasted cauliflower chunks make excellent side dishes that go well with most meals. Moreover, tender roasted cauliflower drenched in a blue cheese sauce and sprinkled with crispy bacon. It is the best thing you'll ever taste.
This roasted cauliflower with blue cheese sauce has only four ingredients. On top of it, it just takes about 30 minutes to come together.
If you want an extra flavor boost, add a generous amount of fresh-cracked black pepper on top.
Curtido is a lightly pickled cabbage coleslaw that's perfect for a light lunch or dinner meal. Also, for toppings for burgers, soups, and tacos, or as excellent side dishes for meaty meals.
Crunchy cabbage shavings mixed with oregano, vinegar, onion, and jalapeño make up this simple dish. This easy recipe is light on the stomach, easy to make. On top of it, packed with the goodness and natural flavors of crispy green veggies.
Leeks are delicious ingredients packed with nutrients. Healthy and tasty, this creamed leeks recipe is quick and easy to prepare.
Not only does it pair well as a light side dish for most roasted meat recipes. It can also serve as an excellent main meal choice for vegetarians.
If you want to enhance the flavor of leeks, sauté them first in butter before going forward with the rest of the process.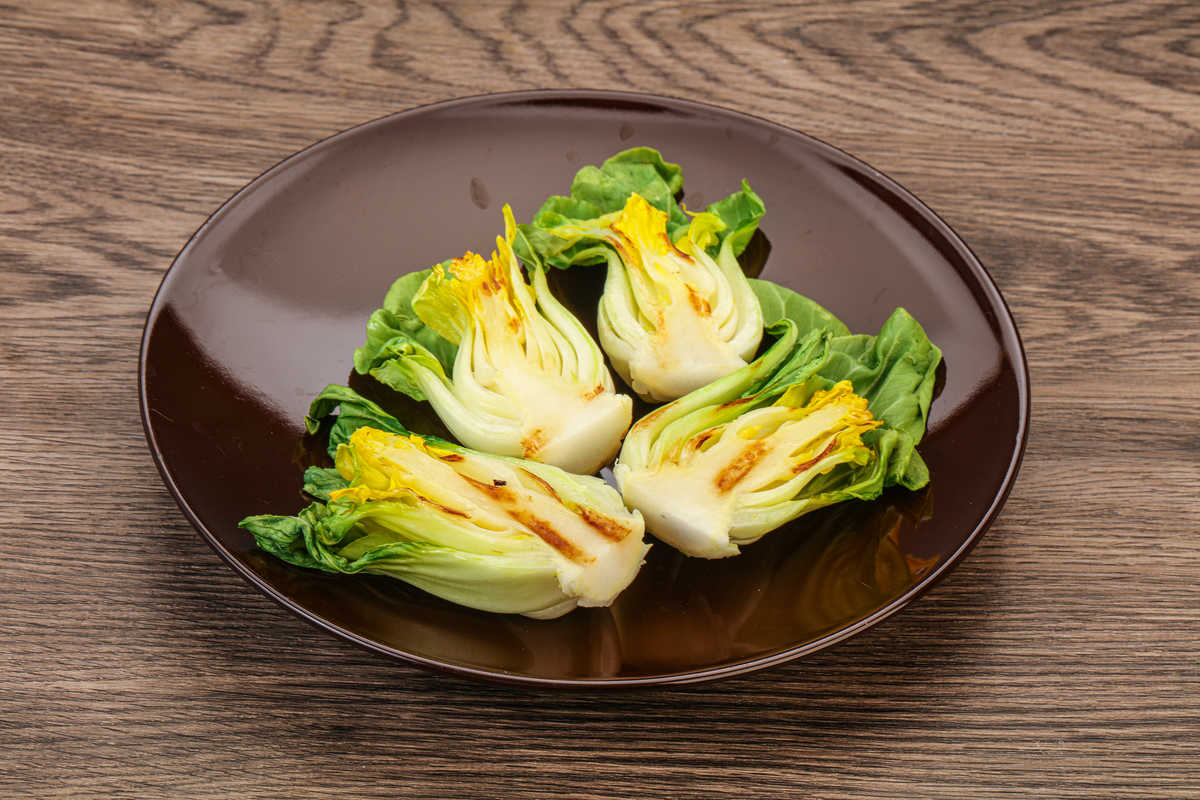 Hearty, healthy, and unique, this roasted baby bok choy recipe features simple ingredients. On top of it, also needs only about 10 minutes to prepare.
In this recipe, the delicate and crunchy cabbage flavor blends with the sweet grated apple. Also with cheese toppings, creating a delicious tender-crisp texture with a cheesy flavor.
This is a side dish that pairs well with most protein-rich dishes such as pork chops. Moreover, you can also have it as a light lunch or dinner option topped with eggs.
Rice Side Dishes for Pork Chops
Rice dishes always go well with meaty recipes and it's no different with pork. Here's a list of some delicious rice side dishes for pork chops.
Here's a perfect white rice side dish you'll want to prepare again and again. In this flavorful garlic basmati rice.
The rich flavors of garlic and oregano blend with decadent creamy butter. Best of all, you can make this side dish in about 20 minutes.
Finish off the preparation with freshly chopped aromatic parsley. Besides adding a vibrant pop of color to the dish, parsley also adds a fresh peppery flavor to the dish.
Looking for an exciting new side dish that you can put together in less than 20 minutes? Here's a perfect option.
This cauliflower rice recipe is a mix of fresh pomegranate, pistachio, and herbs. All these blend perfectly to create a side dish that's both healthy and hearty.
This is an easy recipe that's perfect for a busy work night, a lazy weekend, or a holiday table, too.
Rice with pigeon peas is a popular Puerto Rican rice dish. It's great not just as a side dish for several meat recipes but as a stand-alone meal, too.
Sauté the rice in olive oil and pork fat or chicken fat to prevent the rice grains from sticking together. Combine the rice, pigeon peas, and tomato sauce then steam until the rice gets soft and fluffy.
Want to have a vegetarian alternative? Replace chicken bouillon with a vegetable base and leave out the meat.
Kimchi bacon fried rice is a delicious, comforting rice dish recipe. It's easy to prepare and easy to clean up later.
That's because all the ingredients such as bacon and vegetables are cooked in one frying pan or wok. The fried rice tastes great as it is.
But, the flavors rise to another level with the added flavor of kimchi and bacon. Rice, kimchi, and bacon with sautéed vegetables make thi side dish delicious.
Also, it can be prepared in about 25 minutes. Jasmine rice is a popular choice for this recipe.
However, you can also use other long-grain rice such as basmati. It is less sticky and turns fluffy after cooking.
Pasta Side Dishes for Pork Chops
For all the heavy eaters out there. Here's a list of some hearty pasta side dishes you can have with a plate of pork chops to satisfy your never-ending cravings.
If you're a dill pickle lover, then this salad must be on your must-eat list. This creamy and tangy dill pickle pasta will shake your world.
Why? That's because this cold pasta and mayonnaise create the side dish of your dreams. It can also serve as a simple summer picnic lunch on a lazy weekend.
Looking for an easy pasta side dish that you can prepare in just less than an hour? This vegetable pasta salad recipe might be the perfect fit. You can finish it in about 30 minutes.
Loaded with fresh herbs and summer vegetables. This pasta salad features a delicious creamy sauce that's prepared from pasta starch and chicken stock.
While this is a great side dish for pork chops, you can also pair this with smoked bacon and grilled chicken to create a perfect summer meal.
You can refrigerate this pasta salad for five to seven days. And it tastes great when chilled since the flavors blend beautifully.
If you're looking for a quick and easy recipe that you can put together in about 20 minutes. This cold and creamy pasta salad should be on top of your list.
Although this serves as a delicious side dish with your plate of pork chops. It can also be a great meal option for a summer picnic lunch or a quick dinner on a busy weeknight.
Cherry tomatoes, cheese, bacon, ranch seasoning, and a few other ingredients blend well with cellentani pasta and noodles. This simple recipe that's full of flavor and punch.
This is a cold pasta salad that would taste best after being refrigerated for at least an hour. The flavors would have perfectly blended by then.
Looking for a delicious filling meal but don't want the calories that come with it? Here's an excellent way to add some variety to your keto diet!
This delicious pesto spaghetti squash is an easy recipe to make. But, you'll need about 45 minutes to an hour to prepare this meal.
This amazing low-carb recipe involves roasted squash mixed with a handful of other ingredients. These are tomatoes, walnuts, and pesto to turn into a super satisfying meal.
31 Best Side Dishes for Pork Chops
Need a nice addition to your flavorful pork chops? These Sides for Pork Chops are easy to make, mouth-watering, and quick!
Ingredients
1. Instant Pot-Baked Potatoes
2. Minted New Potatoes
3. Spicy Roasted Sweet Potatoes
4. Roasted Potatoes and Green Beans
5. Truffled Hasselback Potatoes
6. Spinach Tomato Salad
7. Carrot and Beet Salad
8. Roasted Asparagus
9. Balsamic Tomato Salad
10. Kale and Apple Slaw
11. Green Beans
12. Cheesy Garlic Broccoli
13. Brussels Sprouts with Bacon and Dates
14. Sauteed Vegetables with Italian Seasoning
15. Asparagus Ribbon Spring Salad
16. Quinoa and Chickpea Salad
17. Fennel and Apple Salad
18. Golden Roasted Beets and Cherries
19. Air Fryer Parsnip Fries
20. Roasted Cauliflower with Blue Cheese Sauce
21. Curtido
22. Creamed Leeks
23. Roasted Baby Bok Choy
24. Garlic Basmati Rice with Oregano and Fresh Parsley
25. Pomegranate Cauliflower Rice
26. Rice with Pigeon Peas
27. Kimchi Bacon Fried Rice
28. Dill Pickle Pasta Salad
29. Vegetable Pasta Salad
30. Bacon Ranch Pasta Salad
31. Pesto Spaghetti Squash
Instructions
Scroll up to get a bunch of easy, yummy, and delicious side dishes. Don't be afraid to get creative with the ingredients, you might discover a flavor you didn't know you liked.
Get your shopping list going and make sure you've got all the ingredients.
Get cooking and make your next Side Dish for Pork Chops!
Notes
Which one of these recipes was your favorite? Let me know in the comment section or on Pinterest!