This chicken fajita meal prep bowl comes with stir-fried chicken and sliced bell peppers. To keep the dish low-carb – we have oven-baked Brussels sprouts that are naturally sweet. It's gluten-free and dairy-free.
The dish is high in protein and fats. One meal prep bowl is around 592 calories. Thus, it's a great high protein lunch meal or dinner for the times when you're busy.
New to Meal Prepping?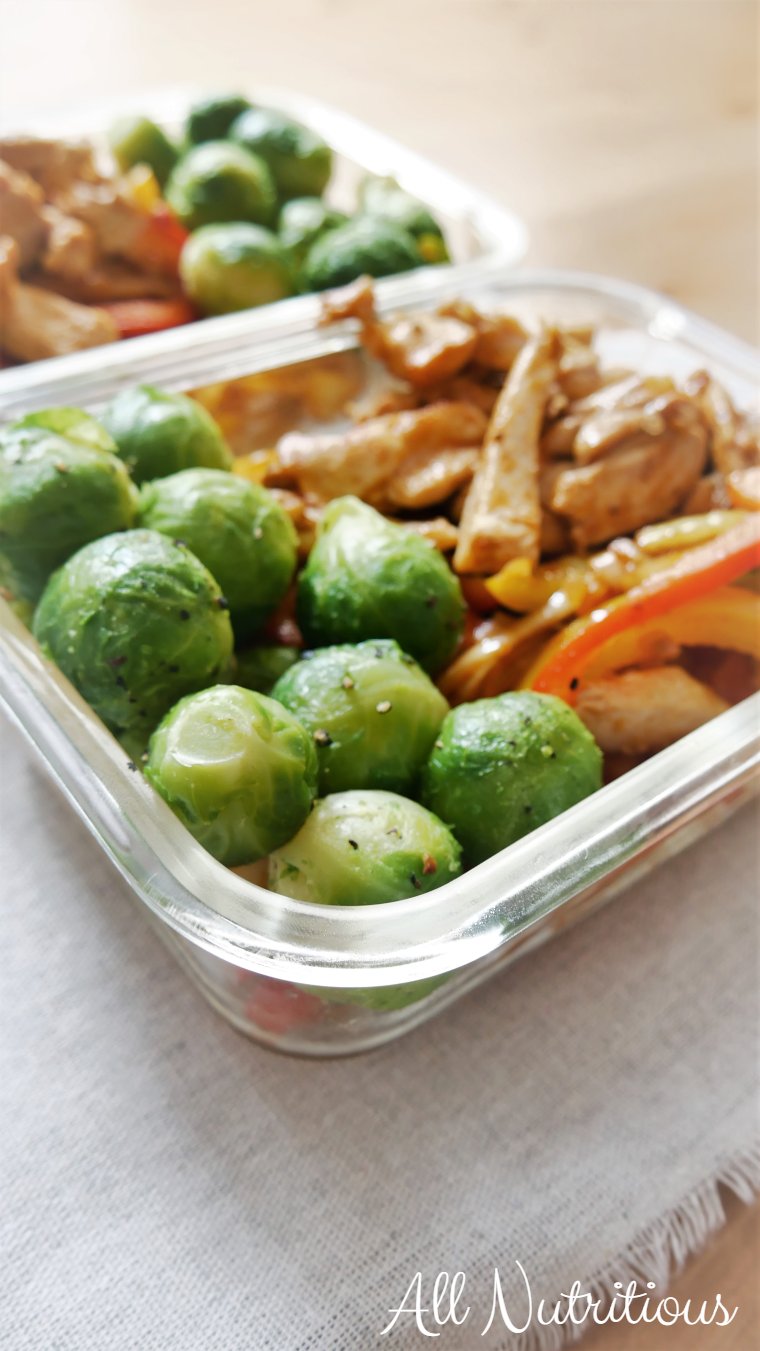 If you're new to meal prepping, look no further. These healthy chicken fajitas are very easy to make, they're full of flavors and have a great nutritional value.
The great thing about them is that you can play with toppings to bring in new flavors or just adjust the recipe to your tastes. So, it's a perfect beginner's high protein meal prep idea because it's quite hard to mess it up.
Fajitas: What are They?
While many, including me, might have thought that fajitas belong to Mexican cuisine, that's not true. They are in fact a Tex-Mex dish.
Fajitas are usually served with tortillas. These are usually made either from corn or flour.
The regular fajitas contain grilled meat. However, you'll very often notice how they're just stir-fried in a skillet.
That's mostly because many of us don't have the means to grill the meats. Other than that, the actual word ''fajitas'' means ''little strips'', which explains why fajitas are made out of different meat cuts.
How to Make Chicken Fajitas Healthy
The good thing about chicken fajitas is that they are already full of lean protein. That's because chicken is just one of those meats that are a great source of lean, low-fat protein.
When you add up all the vegetables, the bowl gets quite a bit of fiber. Also, stir-frying everything in virgin olive oil gives the dish very much needed healthy fats.
So, with all these nutrients, a chicken fajita bowl can be very filling and delicious. So, they're quite healthy by themselves.
As long as you don't end up adding high sugar sauces to the meal prep bowl or increasing the amount of salt, the dish is going to stay pretty healthy.
You really don't need to get fancy with sauces as long as you're using high-quality ingredients and a bit of spice. Spices are truly the key to making any dish delicious!
How to Keep Chicken Fajitas Low Carb?
If you want to serve chicken fajitas with tortillas, it's going to be hard to keep them low carb. That's mostly because one tortilla wrap contains around 30g of carbs.
So, the best option would be to just eat chicken fajitas as they are. Right now one meal prep bowl contains around 17g of net carbs.
Otherwise, you can try these low carb tortillas. One wrap only contains 3g of net carbs.
Starting your ketogenic diet journey? Feel free to check multiple keto meal prep ideas here.
Recommended: 25 Macro-Friendly Meal Prep Ideas
Toppings for Chicken Fajita
The chicken fajitas are quite delicious just the way they come. That's mostly because we're stir-frying all the vegetables and chicken in a mix of spices. These truly enrich the taste of vegetables and meat.
Also, the main topping here is lemon juice. Which gives the fajitas a little bit of acidity.
However, there are ways you can add more flavors to this meal prep bowl. Feel free to cut in a little bit of avocado, add sour cream, jalapenos, cheese or even tomato salsa.
There are truly a lot of ways to keep them interesting. Especially if you tend to make the same meal prep every week.
Recommended: 20 Easy Chicken Meal Prep Ideas
How Long Can You Keep Chicken Fajita Meal Prep Bowls in the Fridge
The maximum amount of days I usually keep chicken in fridge is 3 days. So, even if you seal these chicken fajitas up well, I would still recommend only keeping them in the fridge for up to 3 days.
Also, glass containers tend to keep the food fresh for longer than plastic ones. So, that's something you might want to consider.
Recommended: 20 Sheet Pan Recipes
Watch Full Instructions
What You'll Need for Meal Prepping
Glass containers – these tend to seal well. All you need to do is pop these into a microwave to heat the food up. They tend to hold food fresh for longer.
Glass containers with compartments – useful if you want to keep certain ingredients separate. That's especially important if you need to heat up only parts of food.
BPA-free plastic containers – lighter in weight, therefore much easier to carry around. That's especially important if you tend to bring your food to work or university.
Other Recipes You Might Like
Healthy Chicken Fajita Meal Prep Bowl
These chicken fajita meal prep bowls are the low carb version of regular chicken fajitas. High in proteins and fats, and great for busy people.
Ingredients
4 skinless chicken thighs
2 tsp lemon juice
1 red bell pepper
1 yellow bell pepper
1 green bell pepper
1 large onion
2 tbsp olive oil
2 cloves of garlic, crushed
4 cups Brussel sprouts, fresh or frozen
Seasoning
2 tsp chilli powder
1 tsp paprika
1/2 tsp cumin powder
black pepper and salt
Instructions
Mix chili powder, red pepper, cumin, a dash black pepper, and salt, and set aside.
Cut chicken thighs into thin strips. Then, add half of the seasoning, garlic, lemon juice and a dash of salt to them.
Heat olive oil in a pan and add chicken strips. Cook for 10 minutes or until fully cooked.
Now, remove the chicken, add sliced onions and bell peppers, and the rest of the seasoning. Stir fry for 5-minutes.
Meanwhile, preheat oven to 390 degrees F (200 degrees C).
Place Brussel sprouts in a single layer on the baking sheet, spray with olive oil, season with salt and black pepper. Bake for 20 minutes.
Nutrition Information:
Yield:

2 meal prep bowls
Serving Size:

1 meal prep bowl
Amount Per Serving:
Calories:

592
Total Fat:

32g
Carbohydrates:

9g
Net Carbohydrates:

3g
Fiber:

6g
Protein:

59g